The OCRIS suite is an advanced set of tools that make it easy for you to manage exploration and drilling data, all the way from collection through to management and delivery.
By matching the data process flow with the everyday workflow requirements, this well-designed and easily scalable data management solution ensures maximum efficiency with minimum frustration.
The OCRIS suite is the only choice if you want fast, accurate, and dependable data.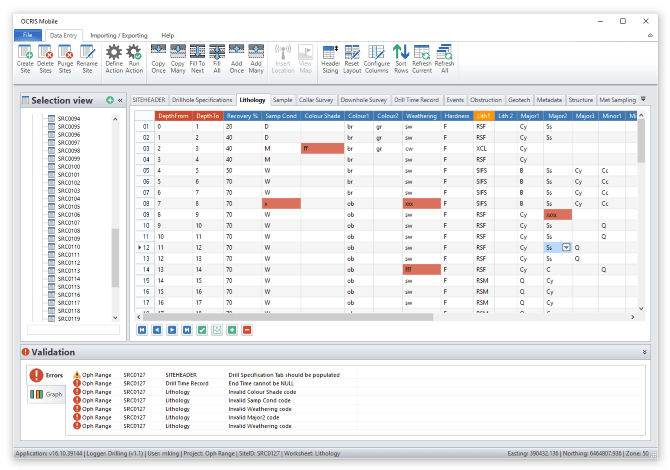 OCRIS Mobile is a software tool used by your exploration crew to collect data out in the field. It's dead simple to get up and running, with a one-step install and sensible out-of-the-box defaults. Your crew will love how easy it is to use, with fast data entry, real-time validation and graphical feedback.
Features:
Install easily in one step, with no external database required.
Turbo-charge your data entry with predictive text, pick-lists, default values, and bulk insert patterns.
See (and fix) errors as soon as they are made with on-the-fly validation.
Ensure data integrity by making it hard to load mistakes. ORCIS Mobile won't let you export dodgy data, and will automatically check for mistakes like overlapping or missing intervals, invalid dip/azimuth/grid values, invalid samples or groups, etc.
Automatically calculate fields (such as Recovery, RQD, SG, length, and many more).
Arrange your logging screen the way you want with the drag-and-drop layout.
Use multiple logging templates in one system.
Import values from external devices (such as GPS, camera, XRF, electronic scales, MagSus meters, etc.)
Easily roll out logger updates via simple upgrade packages.
Low-system requirements and offline functionality - use it in the middle of the desert on your old Toughbook without any drama.
OCRIS Toolbox is a robust application packed with tools to manage multiple projects and data sources. It's used by your data managers to load, manage, and publish your data in a timely and efficient manner.
Features:
Import data quickly and easily.
View and edit your data using the same predictive text, pick-list, and default value support as OCRIS Mobile.
Perform repeatable and reliable exports - look at your data the way you want it, every single time.
Configuration is version controlled, so if someone breaks it you can easily roll back.
Remote configuration and support is available via simple upgrade packages.
Database auditing provided out of the box, ensuring standards compliance.
Database replication and distribution is provided out of the box via simple upgrade packages.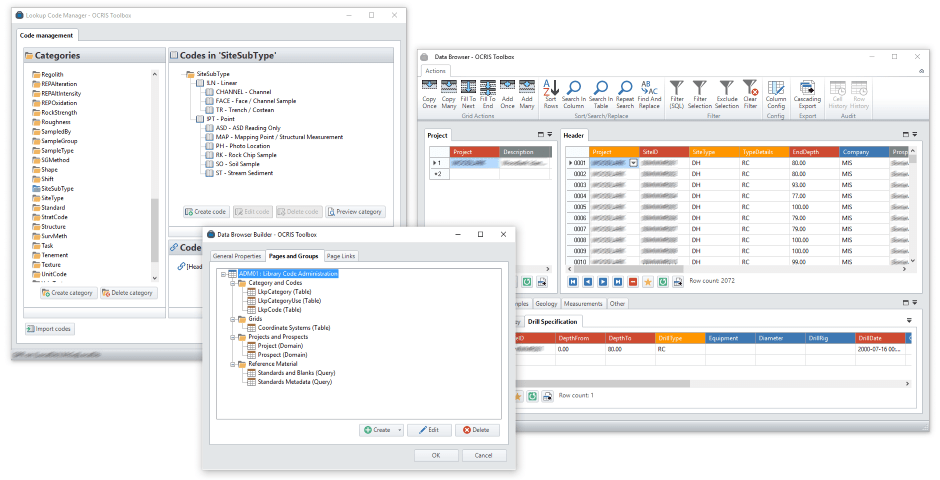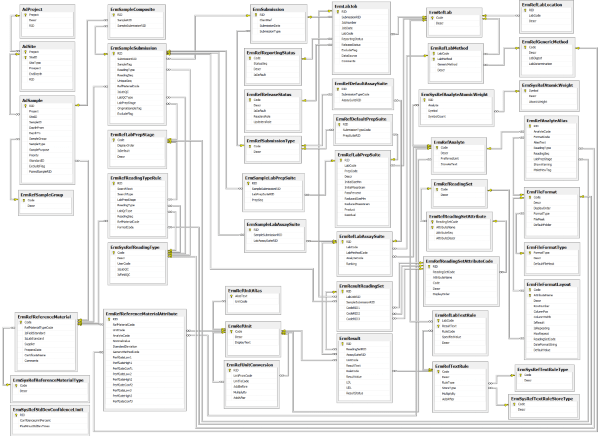 The OCRIS Model is a rock-solid database that will store your data in a central location, keeping it safe.
Features:
Configurable to work with your data, without requiring a DBA.
Built on top of Microsoft SQL Server: a secure, robust, and industry leading database platform.
Your choice of environment: Run it on a local workstation, on your own servers, or in the cloud.
Support for advanced business intelligence.